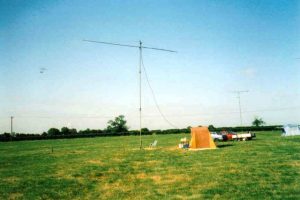 WSPR is a way of sending a tiny amount of data over huge distances using very little power. It's used by radio enthusiasts to see what propagation conditions are like: receivers all over the world report what they hear to WSPRnet which serves as a real-time map of the radio world. The protocol itself is amazing: it takes nearly two minutes to send just 50 bits of data, and has such clever error-correction that only a tiny amount of received signal is needed to get a clean decode. Seriously, if you're at all interested in information theory, then read the spec (at Appendix B of that link).

Due to the beacon-like nature of WSPR, many people like to leave it running unattended. However many countries restrict the use of unattended transmitters. This post discusses whether it's legal in the UK to run WSPR unattended. It's pretty complex, so feel free to skip to the end for the TL;DR.
Do I need an amateur radio licence to run WSPR?
No—but you do need a callsign, for which you need a licence. Confused? 😛
The answer is 'no' due to The Wireless Telegraphy (Testing and Development Under Suppressed Radiation Conditions) (Exemption) Regulations 1989. This lets you transmit whatever you like, without a licence, in certain frequency ranges provided that the field strength is very, very low. The permitted ranges do include some of the bands on which WSPR is commonly used. However, the power limits are tiny.
It would be interesting to see just what could be done with such low power, but there is an important practical limitation: the WSPR protocol requires that you state your callsign. A callsign is allocated when a licence is issued. No licence, no callsign. Bummer.
OK, so I need a licence. What kind do I need?
There are three types of amateur radio licence in the UK: in ascending order of difficult-to-get-ness, they are foundation, intermediate, and full. Each has its own set of privileges set out (at length) in the licence document. Even having gone through the training necessary to pass the licence exam, you could be forgiven for getting lost in the twenty-three pages of legalistic terms, schedules, notes, and tables.
Clause 10 of the licence deals with unattended operation and tells us that—
The Licensee may conduct Unattended Operation of Radio Equipment provided that any such operation is consistent with the terms of this Licence. Additional restrictions which apply to the Unattended Operation of Beacons are specified in Schedule 2 to this Licence.
Schedule 2 is a table of frequency bands and tells us what different type of licences allow you to do with unattended beacons. The first thing to say is that under 'Foundation licence' there's just a whole column of 'Not allocated'. So unfortunately foundation licencees are never allowed to let their equipment transmit a beacon while unattended. However, read on! There might be another way.
Under the 'Intermediate' column there are a few bands available, but some are marked '(1)' which means 'May only be used for the purpose of direction finding competitions', which definitely excludes WSPR. The lowest frequency band without this restriction is 23cm, and even then you can't be in Northern Ireland or within 50 kilometers of GCHQ Bude or RAF Menwith Hill. Furthermore, as 23cm isn't really known for its amazing propagation qualities, there isn't a specific frequency range used by WSPR on that band. So yes, intermediate licence holders can use WSPR unattended, but only on frequencies not really suited to it.
Full licencees do fare a little better. Although their column has more entries, everything below 4m has a '(1)' attached. 4m does have some interesting propagation characteristics, but there are many countries where it's not allocated, and thus there's no WSPR band defined for it. After that, the next permitted band is 23cm. So in other words, full licence holders can operate unattended WSPR on 4m, but there might not be anyone listening.
What does 'unattended' actually mean?
I've read some discussion as to what actually counts as unattended operation, but the text of the licence leaves no room for doubt:
17(1)(ll) "Unattended Operation" means the operation of Radio Equipment by the Licensee when the Licensee is in a different location to that where the Radio Equipment is located
I would give 'location' its natural meaning: in other words, if your kit is in your house, car, or tent, unless you're in said place with the kit, the operation is unattended. So you can be in your house asleep, with your radios in the next room, but the operation still isn't 'unattended'.
Does my station count as a beacon? It receives as well as transmits!
The astute reader will note that Schedule 2 only applies to the unattended operation of beacons. The licence helps us again:
17(1)(e) "Beacon" means automatic transmitting only Radio Equipment which is operated by the Licensee in accordance with Clause 10 and Schedule 2 of this Licence
Note that it makes no difference whether the WSPR transmission is intended to be replied to or not: the word 'beacon' in the licence means only what is written in 17(1)(e). The key phrase is 'automatic transmitting only Radio Equipment'. With WSPR, 'automatic' it most certainly is, but 'transmitting only'? This depends on how you set up your WSPR station. If you set it up to receive others' transmissions as well as send your own, then in theory you avoid being a beacon and thus also avoid the tyranny of Schedule 2… but I stress in theory. A counter-argument might be that the receiving requirement is there so that someone can send you a 'close down now' message, but your WSPR station isn't going to respond to that.
Without some clarification from the authorities (or a binding judgment from a senior court) it's impossible to know what the position really is—and given that a breach of this condition is unlikely to cause any real harm, it's possible that we will never know for sure.
If you're happy that your unattended WSPR station falls outside this definition of 'beacon', then intermediate and full licencees can use any of their allocated bands.

What about remotely controllable beacons?
If you're able to arrange things such that you can remotely control your WSPR installation, you don't need to worry about whether it counts as a beacon or not thanks to clause 10(2):
… the Licensee may also conduct Remote Control Operation of Radio Equipment (including, for the avoidance of doubt, Beacons) provided that any such operation is consistent with the terms of this Licence.
The licence helpfully defines 'remote control operation' as well:
17(1)(ff) "Remote Control Operation" means Unattended Operation but where the Radio Equipment is operated by remote control, that is, where the Licensee has the ability to control the Radio Equipment from a different location to that where the Radio Equipment is located
If a full licence holder can make their WSPR station securely controllable over the Internet, they escape the restrictions of Schedule 2 because their operation is now 'remote control' rather than 'unattended'. Note that the wording says you only must have the ability to control it remotely: you don't have to have it under constant remote control so long as you have the ability to do so.
Unfortunately for foundation and intermediate licencees, 10(6) restricts you to the use of radio links above 30MHz and with less than 500mW power. You can't use the Internet to do remote control.
So…?
So:
Everyone can use unattended WSPR on any frequency but with miniscule amounts of power…
…but you can't use it meaningfully without a callsign, for which you need an amateur radio licence.
If your unattended WSPR station is transmit-only,

intermediate licencees can only use 23cm (which doesn't have a WSPR band), and
full licence holders can use 4m (but there might not be anyone listening) and 23cm.

If your unattended WSPR station can receive as well, and you think it falls outside the licence's definition of 'beacon',

all three types of licencee can use any of their allocated bands. This means that even foundation licencees can use unattended WSPR, and their 10W power restriction is actually pretty high for WSPR.
But the legal position is not entirely clear!

But if your station is remotely controllable,

full licencees can use all their allocated bands without worrying whether they're operating a beacon;
but foundation and intermediate licencees can only do this if they use low-power radio links for the remote control bit.
Hopefully that's clear!
Who are you anyway?
I have a full amateur radio licence (my callsign is GM7OMZ), although I haven't been active in over twenty years. I'm an IT guy by trade and I'm interesting in both technology and law. I also have a degree in English Law which helps a lot with interpreting legal documents like OFCOM licences.
I do hope you found this post useful. Comments are welcome!