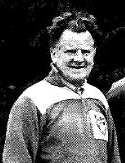 This grainy image is the only picture I have ever seen of my maternal grandfather David Samuel Richards, known to his friends as Don. He worked for a family in Theydon Bois in the 1930s, as an engineer at Martin-Baker during and after the war, and was also an amateur wrestler. My grandmother divorced him in 1960, shortly before destroying every piece of evidence that he ever existed. All contact was subsequently lost. This may be the only surviving image.

I am hopeful, however, that there may be more. So my question to the Internet-at-large is: did you know Don Richards?
His chauffeuring job was most probably at 'Fairmeads' in Piercing Hill, which backs on to Epping Forest. He may have worked for Mr S C Norton as a chauffeur or stableman. Did you live at, or visit, Fairmeads in the 1930s? Do you remember him?
The picture was very kindly sent to me by an employee of Martin-Baker after my last-ditch enquiry to find some shred of documentation proving that he really did exist. In the picture he stands next to the company football team. Were you a member?
His wrestling career generated colourful memorabilia which was among the effects that my grandmother destroyed. The British Wrestling Archive has disappeared (and doesn't seem to have been a serious attempt at archiving). Do you remember a wrestler called Don Richards? Do you have a private archive of promotional material?
Nothing at all is known of Don between 1960 and his death in 1989 in Hillingdon (apart from this picture). Did you know Don (or Dave/David Richards) in the 70s or 80s?
This is a massively long shot, but with a huge amount of luck someone will stumble across this page after a half-hearted search and a memory will be triggered. Here's hoping it's you!