If you've arrived here expecting a cache of Marxist-Leninist newspapers, I may have misled you. I am neither a Marxist nor a Leninist (although I do have a soft spot for Imagine), and if I'm completely honest I don't really know the difference. The title of this post is actually taken from a c1990 programme schedule for Radio Tirana, the English-speaking Albanian equivalent of the BBC World Service. As someone who heard that programme first hand, I can tell you that it was exactly as interesting as it sounds. We'll get back to Albania shortly, but first a little context.

Radio days
In the evenings of the late 80s and early 90s, I could invariably be found in my darkened bedroom poring over my little short-wave radio, teasing out snapshots of the world from the ether (yep, I wasn't what you might call popular… oh for a time machine etc ;-)). In the days before the Internet was widespread, short-wave radio was the most immediate way to get first-hand reports from all over the world, with a bit of wire strung across our back garden to detect the faint signals bouncing off the ionosphere.
Foreign-language external radio services were—and inevitably still are—sources of propaganda, the only difference being how blatantly the truth was polished. I listened to Radio Beijing playing classical music while
an anonymous man stood in front of a tank near Tiananmen Square
; I imagined the scene at Radio Baghdad as it broadcast
a defiant message
in the months leading up to the first Gulf War; I was alarmed at Radio Moscow's abrupt change of tone when Gorbachev was briefly ousted in Gennady Yanayev's failed coup attempt (I also have
a contemporary TASS feed of the events
; it's also interesting to note that
Gorbachev himself credited the BBC World Service as his only reliable source of news
).
Of course, not everything was as depressing or momentous. Every Sunday I listened to Tom Meijer on Radio Netherlands' 'Happy Station Show', a fun and slightly surreal mix of music, letters and guests. I never quite understood Radio Moscow's 'Join us', a programme which appeared to impose mandatory and structured hilarity upon teenagers. And then, of course, there was the correspondence.
Postcards and tractors
Many of these external radio services were run by a surprisingly small number of people, and often I had the impression that they had no idea if anyone was actually listening: exhortations to write in with reception reports were frequent and sometimes a little desperate. I was happy to oblige, and sent letters all over the world (I remember having to convince my father that Uzbekistan was a real place!). In return I received postcards, books, tourist information, badges, personally written letters, and of course lots of propaganda. It's been long enough now that some of this stuff is of historical interest, and I've started digitising the most interesting bits. It'll all go online when I've finished, but it's going to be a while: I'm doing it in alphabetical order, and have only just started 'C'!
Which bring us—finally—to Albania. Radio Tirana, characterised by a woman speaking in a soft monotone, sent me a blank
QSL card
, a propaganda pamphlet that's almost a parody of itself, and a copy of their programme schedule that looks like it was typed by a gorilla. The pamphlet contains the obligatory pictures of tractors, heavy industry and brutalist Soviet architecture, alongside graphs of production growth that a cynic might suspect were exaggerated and unsustainable. However, the schedule is by far the most interesting document, because it spells out exactly what the Albanian government wanted the world to know. I reproduce it below, along with a transcription. If Marx—or Lenin for that matter—is your thing, prepare to get misty-eyed.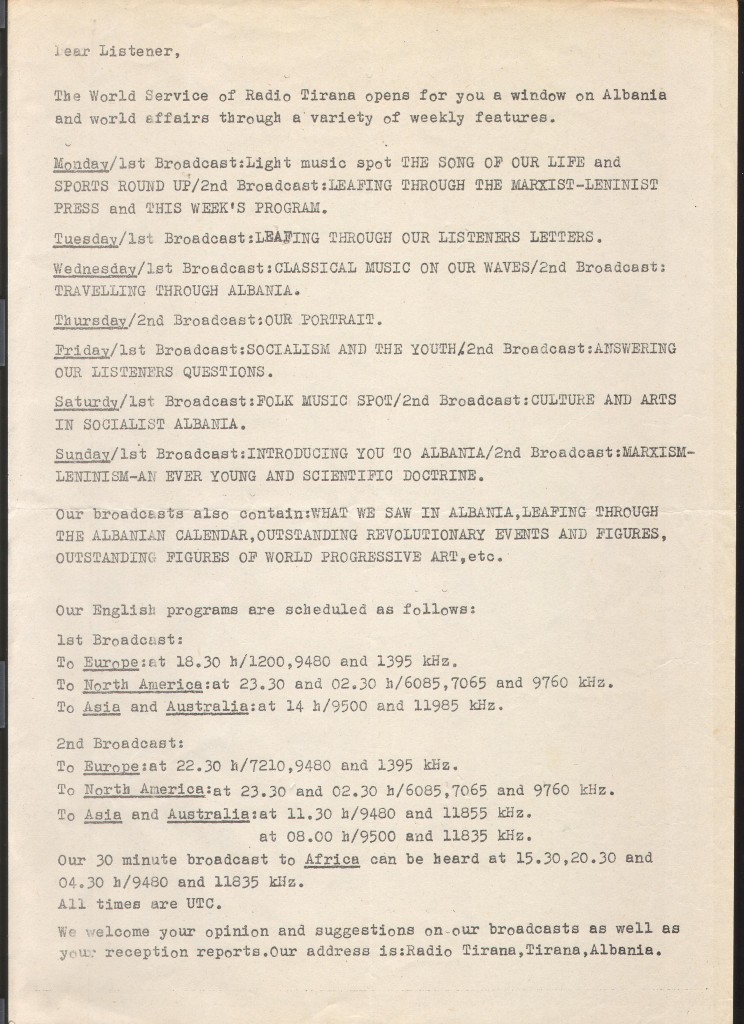 Dear Listener,
The World Service of Radio Tirana opens for you a window on Albania and world affairs through a variety of weekly features.
Monday/1st Broadcast:Light music spot THE SONG OF OUR LIFE and SPORTS ROUND UP/2nd Broadcast:LEAFING THROUGH THE MARXIST-LENINIST PRESS and THIS WEEK'S PROGRAM.
Tuesday/1st Broadcast:LEAFING THROUGH OUR LISTENERS LETTERS.
Wednesday/1st Broadcast:CLASSICAL MUSIC ON OUR WAVES/2nd Broadcast:TRAVELLING THROUGH ALBANIA.
Thursday/2nd Broadcast:OUR PORTRAIT.
Friday/1st Broadcast:SOCIALISM AND THE YOUTH/2nd Broadcast:ANSWERING OUR LISTENERS QUESTIONS.
Saturdy/1st Broadcast:FOLK MUSIC SPOT/2nd Broadcast:MARXISM-LENINISM-AN EVER YOUNG AND SCIENTIFIC DOCTRINE.
Our broadcasts also contain:WHAT WE SAW IN ALBANIA,LEAFING THROUGH THE ALBANIAN CALENDAR,OUTSTANDING REVOLUTIONARY EVENTS AND FIGURES,OUTSTANDING FIGURES OF WORLD PROGRESSIVE ART,etc.
Our English programs are scheduled as follows:
1st Broadcast:
To Europe:at 18.30 h/1200,9480 and 1395 kHz.
To North America:at 23.30 and 02.30 h/6085,7065 and 9760 kHz.
To Asia and Australia:at 14 h/9500 and 11985 kHz.
2nd Broadcast:
To Europe:at 22.30 h/7210,9480 and 1395 kHz.
To North America:at 23.30 and 02.30 h/6085,7065 and 9760 kHz.
To Asia and Australia:at 14 h/9500 and 11985 kHz. At 08.00 h/9500 and 11835 kHz.
Our 30 minute broadcast to Africa can be heard at 15.30,20.30 and 04.30 h/9480 and 11835 kHz.
All times are UTC.
We welcome your opinion and suggestions on our broadcasts as well as your reception reports.Our address is:Radio Tirana,Tirana,Albania.