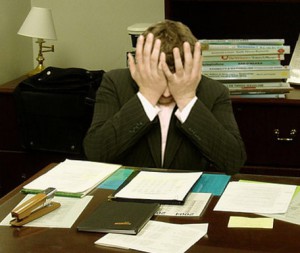 I've written about self-styled 'sovereign citizens' and 'freemen on the land' before: products of selective reading through a Vaseline-smeared lens, they believe that the right combination of arcane language and red ink casts a spell over the legal landscape that opens a portal through which they can escape the effects of the law. They throw around high-minded principles of democracy and government, but the law they're actually trying to evade is invariably one of taxation or debt. Funny that.

Of their various obsessions, 'Freemen' are particularly interested in common law. For the uninitiated, common law is the set of rules and customs that, over many hundreds of years, developed into a coherent (but fluid) set of laws. The opposite—not really opposite, more the other side of the same legal coin—is statute law: the familiar codified laws passed by Parliament and referred to by name. Over time, statute law has displaced some of the common law, but much remains: the classic example is the offence of murder, which appears nowhere on the statute book, but is nonetheless definitely illegal!
Anyway, back to 'Freemen'. They believe that they can side-step liability to statute law by claiming to 'stand under' common law (this is 'Freeman' word salad: they believe that 'do you understand?' really means 'do you consent to my jurisdiction?', which is nonsense). The vagaries of their theory don't bear repeating, but essentially chanting 'I claim common-law jurisdiction' or whining about the difference between 'lawful' and 'legal' is supposed to be enough. Obviously this is facile to the point of wilful ignorance, but it does raise an interesting question: why common law?
If 'Freemen' believe that laws passed by Parliament are undemocratic and/or illegitimate (as they seem to), then common law is even more so: it was instituted by an absolute monarch, and has been added to over hundreds of years by unelected judges and Law Lords. Furthermore, reverting to common law alone would permit behaviours that we would find unconscionable in modern society. For example, if we discard all statute law, then the age of sexual consent is no longer defined. The first statutory age of consent was set at twelve in 1275 (it's in Law French, so good luck), and was undoubtedly based on the customs of that time. I'm charitably assuming that supporters of 'Freeman' theories wouldn't go so far as to accept that today, but if they only recognise common law then they have no choice.
It turns out that statutes are often passed for a bloody good reason!
It all comes down to this: no amount of shouting 'no jurisdiction', or asking for written oaths, or scrawling 'no contract' in red crayon, or asking for an 'actual accounting', or claiming maritime jurisdiction, or anything else in the 'Freeman' magic bucket of pseudo-legal numbnuttery will get you anywhere in the existing system. That is my one and only point—and for the avoidance of doubt I stick to my belief that the vast majority of these people try to escape justice for selfish reasons alone.
(This post was adapted from a reply I made to a commenter the other day. I've had to close comments on my other 'freeman' posts to avoid the steady stream of abuse that these people seem to generate. If you'd like to comment on this one, please be nice. Thanks!)